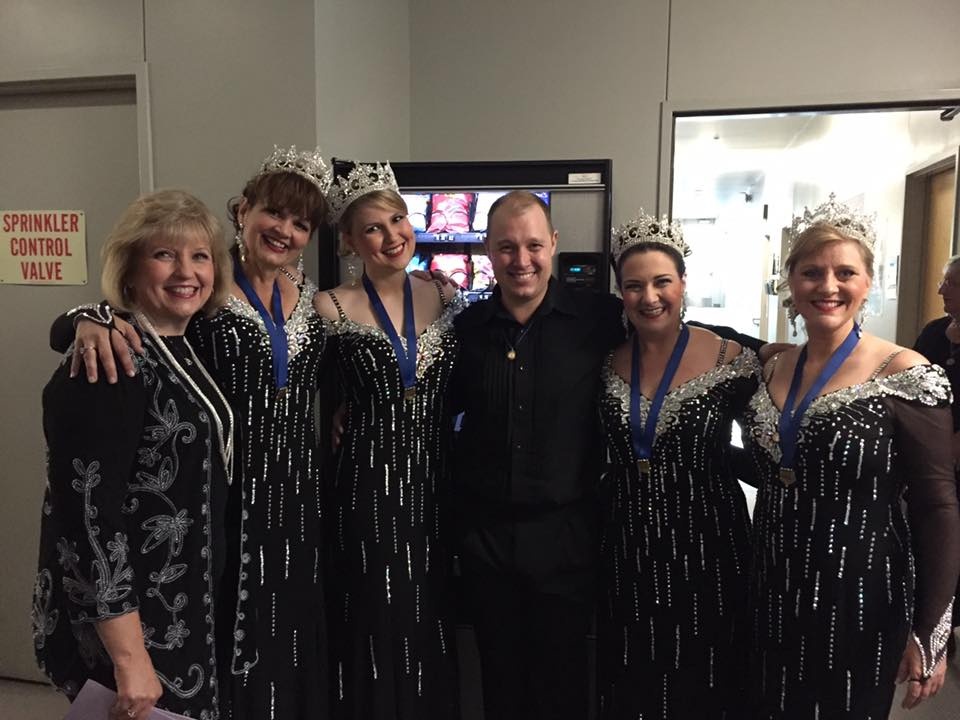 2015 Annual Show A Smash Hit!
If you are not humming He Touched Me, singing "dolla dolla bill y'all" or dancing around the house to Puttin' On the Ritz, you missed Pride of Portland's annual show! Pride hosted some world-class guests - Sweet Adelines International quartet champions Speed of Sound and PSU's Portland Timbre – and had the great pleasure of retaining Sweet Adelines International President-Elect Paula Davis (pictured above, left of Speed of Sound and Director Ryan Heller) as emcee.
Pride began with the tone-setting Great Day, then launched into If I Had My Way. Next, they spanned generations with the hip mashup Just The Way You Are/Just A Dream from the movie "Pitch Perfect", melted the crowd with the emotional Why Did I Choose You, and ended the first set with the flirty and energetic medley I Don't Care If The Sun Don't Shine/When My Baby Smiles At Me.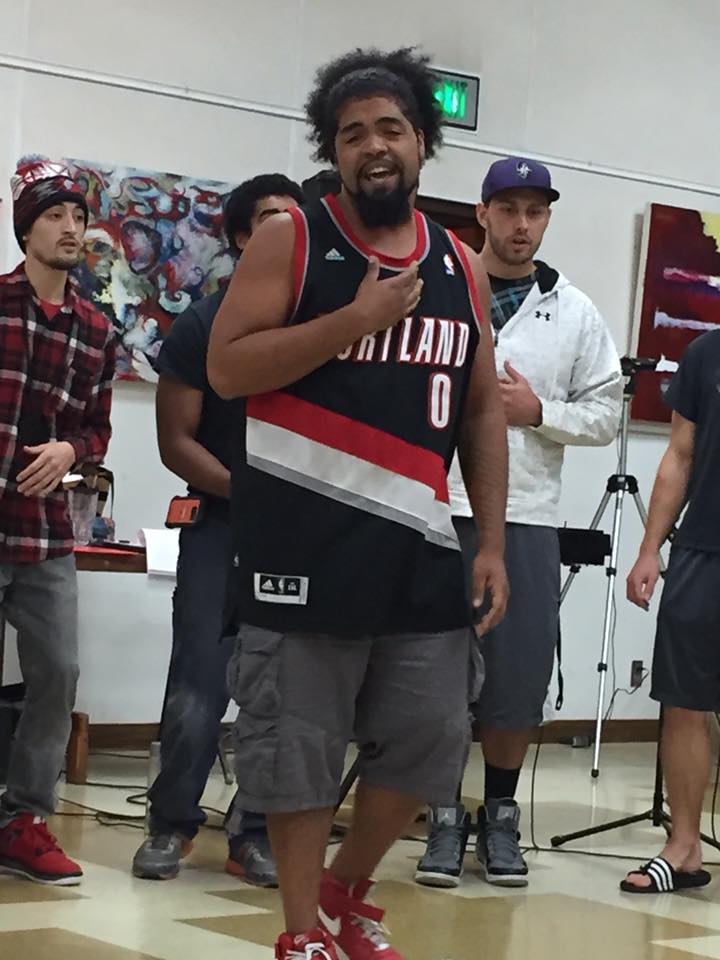 The Portland Timbre, Portland State University's men's a cappella ensemble, engaged the audience immediately with a cover of Runaround Sue. Soloist Ian Adams-Dirks (pictured, left) got the crowd echoing "dolla dolla bill y'all" during their "Slam Crunk" mashup. The Timbre mesmerized the crowd with their energy, sound, and dance moves throughout their set.
The new queens of harmony, Speed of Sound - fresh off their first place finish in Las Vegas - brought down the house, performing numbers from their gold medal package. Every song in their set was spectacular, but their stunning version of He Touched Me not only moved people to tears but brought the audience to their feet.
Pride rounded out the show with their second set, featuring the chorus-directed We Are Family. Director Ryan Heller returned to the stage to lead the Leonard Cohen classic Hallelujah, exited the stage again briefly so Ian and the Portland Timbre could return to lead percussion and add vocals for a crowd-pleasing rendition of All About That Bass. Ryan and the Timbre exchanged places again for the chorus to debut their newest piece, Bridge Over Troubled Water. Next, they sang a tribute to the audience with Henry Mancini's Sometimes and finished with the show-stopping fan favorite, Puttin' On The Ritz. 
Another successful and entertaining program was enjoyed by all. Our next scheduled performance will be at our Family & Friends Sendoff show in May 2016. Look for details in the spring!