Visit a rehearsal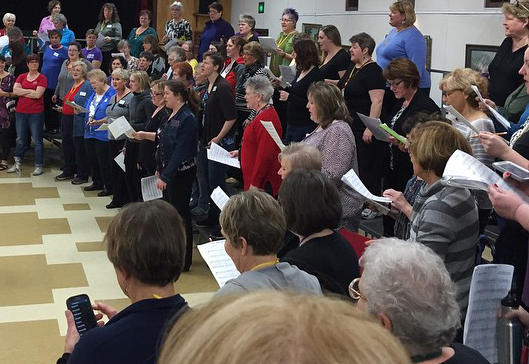 PLEASE NOTE: Infrequently we need to hold Zoom rehearsals due to concerns about COVID. If you are hoping to visit, we suggest you email us at [email protected] to make sure we are rehearsing in person. If we aren't we can give you the Zoom link and you can join us virtually!
We rehearse on Wednesday evenings, beginning at 7:00 pm and going until 10:00 pm. Guests are always welcome. We currently rehears indoors on risers, but masked and socially distanced. Guests are also expected to mask up.
We'd love for you to come and visit us! Just click here to contact us and let us know you'd like to attend one of our rehearsals. Feel free to ask any other questions you may have, too.
We rehearse at:
Latvian Lutheran Church
5500 SW Dosch Rd
Portland, OR  97239
Need some help finding us? Click here for a map: http://goo.gl/maps/EYtey
We look forward to meeting you.
Membership Benefits
Membership in Pride of Portland will change your life in ways you never imagined. First, Pride focuses on many aspects of self-improvement, especially these beginner skills:
producing resonance

learning articulation and intonation

promoting breath support

turning diphthongs

securing and sustaining ring

locking chords

warming up your instrument

learning choreography

focusing on core work

improving stamina
But superb vocal training and performance skill building are just the start. You will have the opportunity to become proficient in other areas, including:
leadership and communication

community awareness and support
You'll have access to the following learning tools:
Websites with current news, competition info, and latest trends

Learning tracks and sheet music for the hottest musical arrangements

A library of training DVDs and audio CDs

Magazines, newsletters, handouts, and marketing guides

Webinars, podcasts and vodcasts 
Need more? Visit Sweet Adelines International and be inspired today.