The History of Pride of Portland
The story behind Pride of Portland Chorus begins in 2000, yet Pride recently celebrated its 50th anniversary in November of 2018. Impossible? Not when you consider the chronicle of events that fashioned Portland's premiere women's a cappella chorus.
Back when there was still a Region 24--the Mount 'n Shore Region--there were also two Greater Portland area choruses: Blue Lake Chorus and Willamette Sound Chorus. Both were chapters of Sweet Adelines International with memberships of comparable size (50+), but these two choruses had a connection unique to other all-female ensembles: brothers.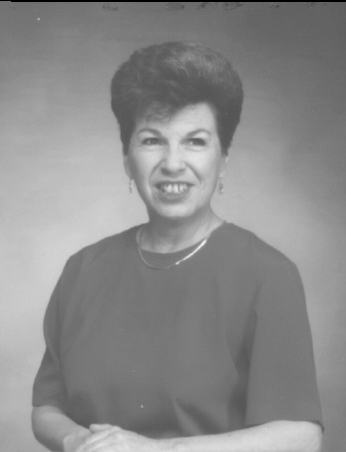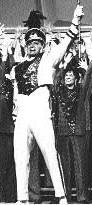 Tim McCormic directed Willamette Sound and had since its inception. For many years, Yvonne Whedon (pictured, far right) was the director of Blue Lake, but as she contemplated retirement, she convinced Tim's brother, Mike (pictured, right), to become co-director. The two choruses shared a friendly gamesmanship not unlike sibling rivalry, anyway, so why not pit brother against brother? 
Both won their share of Region 24 championships, but neither placed high internationally. The leadership team of each chorus began to wonder: how could they boost themselves higher in the rankings? What if...these two regional winners combined into a larger, stronger entity that could be more competitive? A solid plan, but one outside the comfort zone of many. The majority was drawn by the intimacy of a medium-sized chorus. Could they successfully adapt to a larger group and overcome the logistical issues combining two choruses entailed?
The recommendation took at a backseat when the two met for the last time at the 2000 Region 24 Competition. Willamette Sound edged out Blue Lake by a mere four points: 604 to 600. But it was milestone for both. Neither had reached the 600 mark before, earning Yvonne, a certified director, the title of Master Director. Soon after, Yvonne retired and moved back onto the risers. Mike took over as director of Blue Lake. Tim started a new, demanding job that forced him to step down as Willamette Sound's director. Nancy Kurth filled in as interims while a director search was contemplated.
With a new sense of urgency, the merger proposal was resurrected. Why search for a director when there was a perfectly suitable candidate in Mike McCormic? Sweetening the pot was the location of the next International Competition: their hometown of Portland, OR. The timing proved irresistible. After numerous negotiations, members voted to rename Blue Lake and dissolve Willamette Sound. They kept Blue Lake's charter--originally granted on Nov 8, 1968--and settled on a new name. On December 31, 2000, Pride of Portland was born and Mike McCormic was named the director. They entered their first Region 24 Competition in 2001, winning the first of many championships.
With the return of its charter to International, Willamette Sound withdrew from the 2001 International Competition, allowing the second place chorus, Blue Lake (now Pride of Portland) to represent the region at International. That galvanized dozens of eager members from area choruses to flock to the new ensemble, swelling the ranks. Pride was over 140 strong when it hit the International stage for the first time in 2001. They earned an astonishing 10th place.
Little doubt remained - the merger was a triumph. Pride's first regional championship qualified it for the 2002 International Competition so it was international-bound once again. However, Mike left in 2002, so Zoe Thompson, former International President, came out of retirement and graciously stepped in as interim while Pride prepared for International in Nashville, TN, and began formulating preliminary plans for a director search. They fell out of the top ten that year to finish 17th.
With Zoe's impending departure in 2003, Pride recommitted itself to an exhaustive director search. It took a good hard look at the job requirements for their next musical mentor. International success had branded itself permanently on the psyche of this burgeoning chorus. Members wanted someone who would not only return them to the top ten, but launch them to the next level.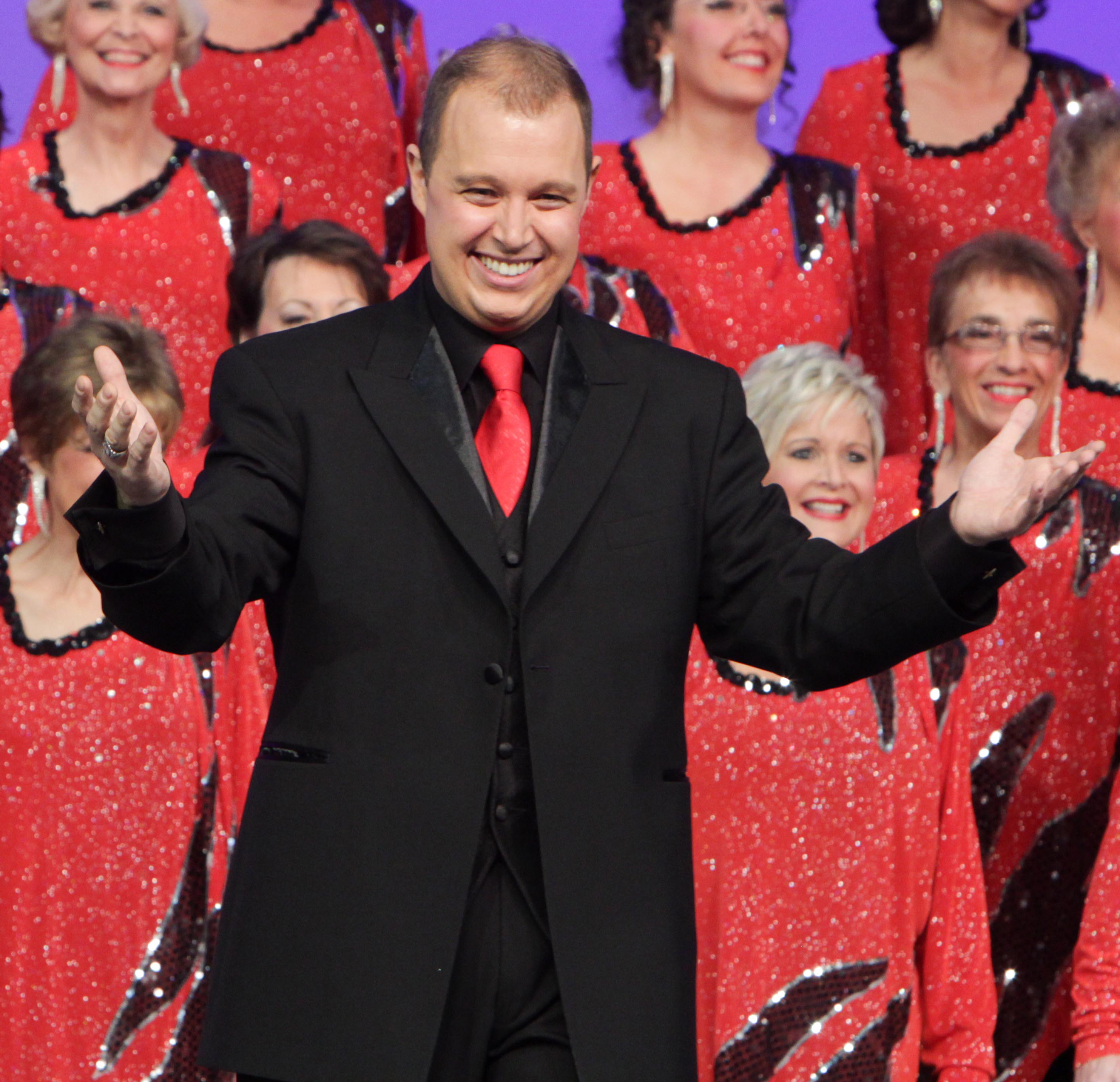 Pride found that director in Ryan Heller (pictured, left). Despite his youth, he blew away the chorus when he came for his director audition, exhibiting an encyclopedic command of musical theory, impeccable credentials, and a relentless drive that most veteran directors would envy. Little wonder, as Ryan has been immersed in barbershop from the cradle; his mother (and Pride of Portland member) Kris Pederson has been a Sweet Adeline since before he was born.
Ryan's natural leadership skills translated into instant success. At his directorial debut at the 2003 Region 24 Competition, he won the Novice Director Award while his mighty Pride earned its second regional championship. At the 2004 International Competition in Indianapolis, IN, Pride scored their highest finish ever: 7th place!
With his trademark exuberance, Ryan is as energy-driven as the sound he demands, reshaping the chorus through education, personal vision, and a fierce love of all things barbershop. He has transformed what it means to be Pride of Portland. During his tenure, Pride has won every regional competition it has entered with four top ten International finishes, achieving the Most Entertaining Chorus Award at the 2010 International Competition in Seattle, WA.
In 2013, Pride celebrated Ryan's tenth anniversary in style--with a record-breaking score at the last ever Region 24 Competition in Boise, ID. Pride broke the prestigious 700 barrier, earning a mind-blowing 701 points with a powerhouse performance that elevated Ryan to the ranks of Master 700 Director. Pride became a part of North By Northwest Region 13 in 2013, and represented both region 13 and 24 at the 2014 Sweet Adelines International Convention in Baltimore, MD, and roared to a stunning 4th place finish! 
With a full-time position as the Artistic Director/Conductor of Chorus Austin, Ryan recently felt it necessary to retire as Pride of Portland's director in May of 2019, after 16 years at the helm. Pride achieved great things under Ryan's leadership, and we wish him only the best as he begins his new life in Austin, TX. We look forward to continuing our successful path with our new director, Drew Osterhout, leading the way onward.
What will the future bring? Find out yourself. Visit a rehearsal, join Pride, and make history with us!