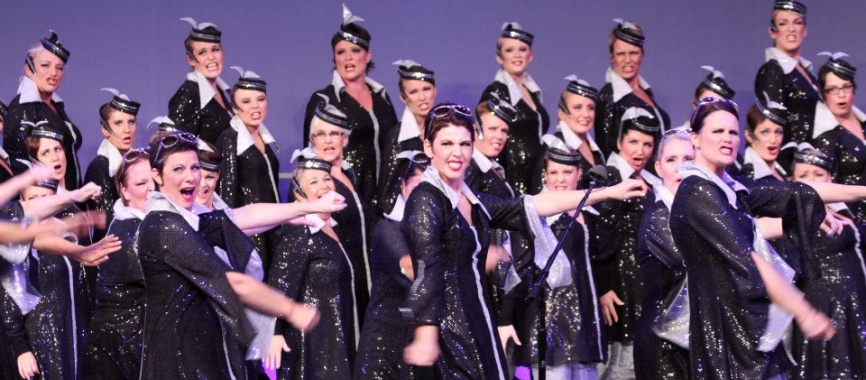 Ronninge Show Chorus from Sweden wins gold in Hawaii
Congratulations to the Ronninge Show Chorus from Sweden--shown here from their 2011 appearance at contest--who recently were named the 2014 International Champion Chorus for Sweet Adelines International. Joining winners of other contests who are from Canada and the United States, Ronninge's win truly puts the "international" in Sweet Adelines International!
Not only did Ronninge capture first place, they were also voted the Audience Choice Award and the Celebrity Judge Award, a rare triple crown win. Truly outstanding barbershop!
See below for more results, or visit the Sweet Adelines International scores page.
Chorus Contest Finals Results
1. Ronninge (3138)
2. Scottsdale (3008)
3. 2946 Toast of Tampa (2946)
4. 2904 Scioto Valley (2904)
5. 2877 Lions Gate (2877)
6. 2745 Christchurch City (2745)
7. 2737 Greater Nassau (2737)
8. 2653 Choral-Aires (2653)
9. 2600 Stockholm City (2600)
10. 2553 San Diego (2553)
Audience choice: Ronninge
Celebrity judge award: Ronninge
Quartet Contest Finals Results
1. Love Notes (2871)
2. Bling (2795)
3. a.k.a (2707)
4. Finesse (2707)
5. Lustre (2669)
6. Heat (2652)
7. Frenzy (2639)
8. Spritzer (2638)
9. Speed of Sound (2628)
10. Glow (2541)
Audience Choice: Frenzy
Celebrity Judge Award: Love Notes
Harmony Classic Contest Results
Pearls of the Sound Chorus, Division A Champion
Rhythm of the Rockies Chorus, Division AA Champion
Vermillion Valley Show Chorus, Most Entertaining Award